Marquee Repairs & Alterations Service
At J & J Carter we offer a comprehensive service from design and marquee manufacturing to service and repair on both traditional marquees and clearspan frame structures.
To extend the life of your event structure, regular repairs and maintenance are essential to keep it in perfect condition for your clients. As such, carefully planned maintenance of equipment and stock is crucial to ensure your projects run smoothly. With event season slowing down, now is the perfect time to check your stock levels and ensure everything is in working condition so you're prepared for your next project.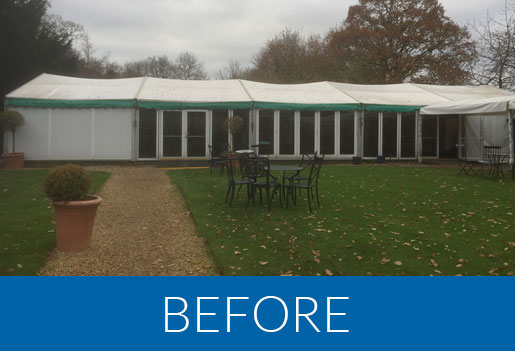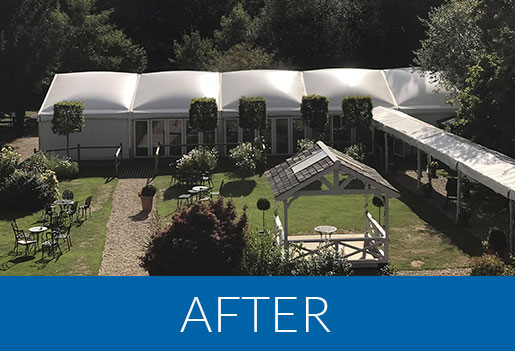 Repair
We repair a wide range of PVC and canvas products to prolong the life of your stock. Types of repairs and alteration services provided by J & J Carter include:
Replacing worn keders
Repairing rips, holes and tears
Replacing fittings, such as lacings and toggles
New zips
New windows
Repairs to both PVC and canvas products
On-site repairs and servicing to fixed structures
Repairs and alterations on aluminium and steel framework
Cleaning
Whilst we do not offer an in-house cleaning and laundering service, we can recommend a number of marquee cleaning facilities around the UK.
Please do note that it is a pre-requisite for all factory repaired items to be clean of all dirt and completely dry before delivery to us.
Contact J & J Carter with your marquee repair and alteration needs…
J & J Carter are passionate about delivering a full-service solution for any of your event structure needs. We believe in delivering a high-value, cost-effective solution on-time and within budget. We have been designing, manufacturing and repairing event structures for 30 years, it's what we love to do! Get in touch with our friendly team with any of your event structure needs and to find out more about how we can help repair your marquee to prolong the life of your valuable stock today.