Printed Marquees for Agricultural Shows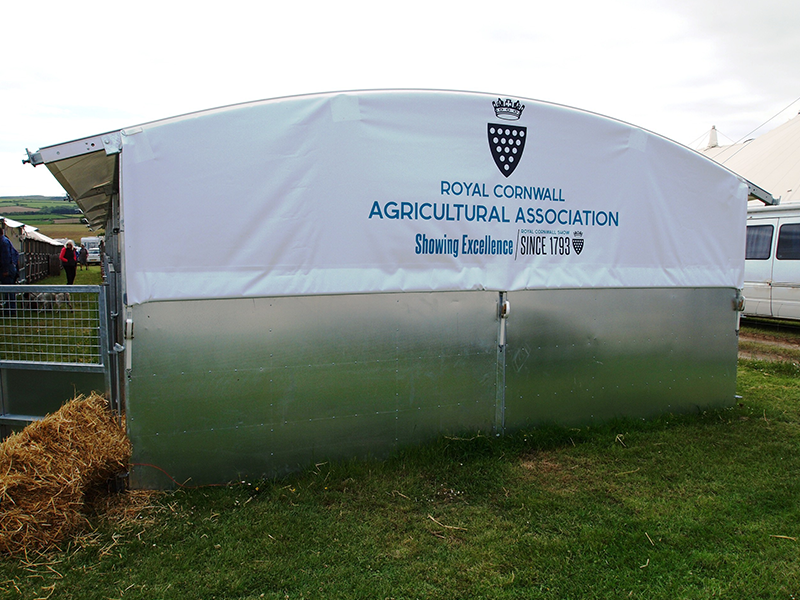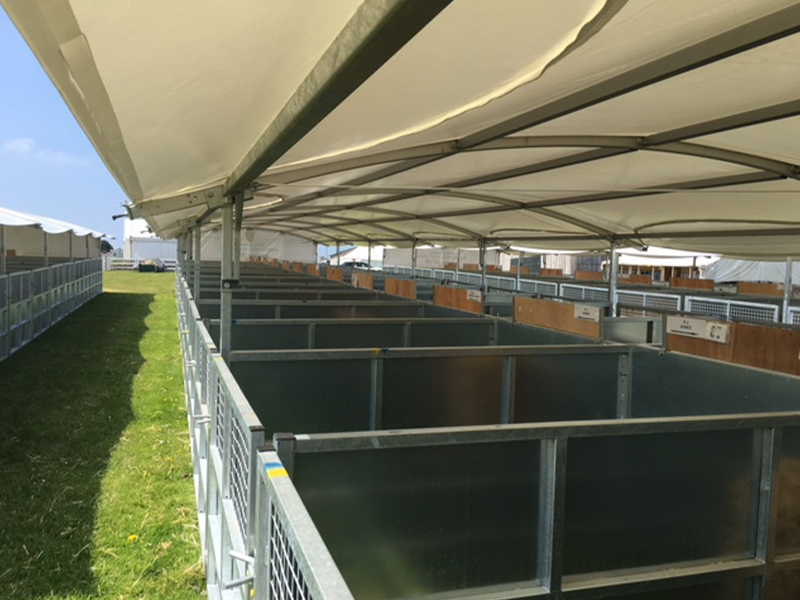 Do your clients require a printed marquee for an agricultural show, country fair or exhibition? J & J Carter provide a range of high quality, durable and cost-effective clearspan aluminium structures which are ideal for branding and advertising.
The key to any successful exhibition or trade show is standing out from the crowd. You want to draw attention to the booth or marquee which in turn will increase foot traffic and potential sales, maximising a return on investment. The best way to do so is with a branded marquee or tent!
Our clearspan aluminium structures are ideal for agricultural shows as they can be customised to fit any shape and fulfil all requirements such as; food preparation, electrics and heating. They can be printed with any logo, design and colours to provide maximum impact. Modern digital printing technology, ensures graphics and colours are clear and vibrant. Unlike traditional pole peg marquees, our aluminium structures are designed for more stability, making them ideal for inclement weather such as strong winds, rain or even snow.
Brand image is essential to being noticed, especially at a busy agricultural show or fair. By branding your marquee, not only does it look professional, elevating a brand above the competition, but it's a great way to get important information to potential customers on a mass scale.
You can use the printed marquee or tent to display:
Company logo and colours, promoting branding awareness
New products in range
Special offers such as free delivery or sales
Company details such as phone number and social handles and website
In addition to supplying top quality branded marquees, we also have expert experience in providing unique temporary event structures. Take a look at the modular curved textile roof structure we designed and manufactured for temporary stables at Hickstead, the All England Jumping Course in West Sussex.
Upcoming agricultural shows and fairs not to be missed:
Orsett Show, Essex, 1 September
Alresford Show, Hampshire, 1 September
Kingsbridge Show, Devon, 1 September
Dorset Country Show, Dorset, 1 September
Chalfont St Giles Show, Hampshire, 1 September
Speciality & Fine Food Fair, London, 2 September
Ludlow Food Festival, Shropshire, 7 Septemeber
Romsey Show, Hampshire, 8 September
Henley Show, Hampshire 8 September
Get in touch with J & J Carter today to find out how we can help your clients achieve maximum impact and return on investment with our printed marquees. We are leading marquee manufacturers and work hard to deliver only exceptional structures, even on tight deadlines. Call our dedicated sales team today on 01264 721630 or email us at [email protected] to learn more about how we can help you.