Maximise Your Outdoor Space with Canopies and Covered Walkways
05 May 23
Spending time outdoors is beneficial to both your physical and mental well-being. It improves your mood as you enjoy some much-needed sunshine and fresh air. From the simplest canopies fitted over an entrance door to protect those entering or exiting a building from the elements to covering extensive walkways for pedestrians transferring between buildings, the scope for canopies is vast.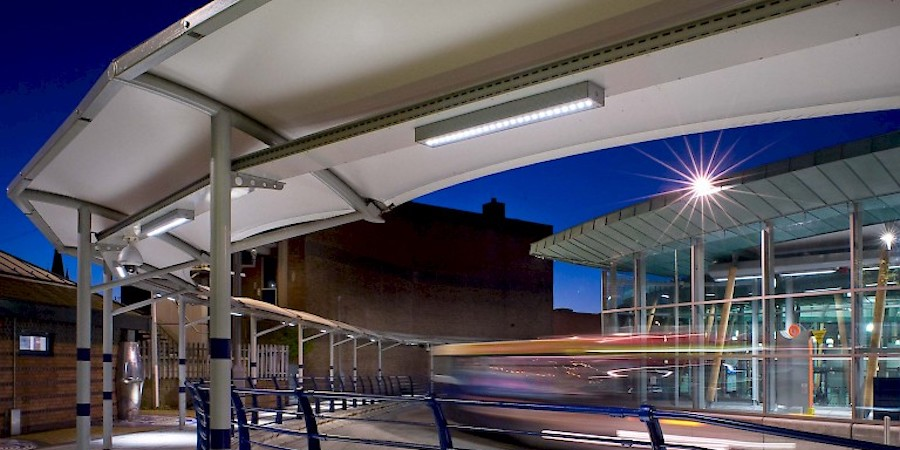 Canopies for Shelter
Providing shelter and protection from the weather is one of the most effective methods to repurpose outdoor areas, large or small. The protection that canopies and walkways offer is one of their main advantages. Whether your canopy is used in a commercial or residential setting, individuals in the vicinity will always relish in the ability to seek shelter from the rain or other inclement weather. Aside from keeping individuals entering and exiting an area dry, enabling dedicated dry paths can significantly reduce the amount of dirt, debris, and water entering a premise. This not only keeps things clean and orderly but also reduces the chance of slipping and increases safety.
Increase Usable Space
Another significant advantage of installing a canopy structure is the additional value it will bring to an outdoor space. We have witnessed a strengthening of the British public's hunger for going outdoors in recent years, led by trends such as al-fresco dining. However, due to the UK's climate and unpredictable weather, cover is required for outdoor spaces to be functional year-round. Creating shaded areas immediately adjacent to a building can expand the available floor space indoors. This is through extending these spaces outside to provide customers and those entering or exiting a building with an additional covered location to host and dine.
Discover how J & J Carter worked with Hilton Garden Inn at Silverstone to create a canopy structure that can cover up to 200 guests as they soak up the race-day action.
Aesthetic Benefits
An unquestionable appeal of covered walkways is their aesthetic attraction. Covered walkway structures are available in a wide range of styles, allowing a business, school or transport to customise their design to suit existing colours and features in a space. Not only does visual appeal improve the experience of those using a space – it can also increase its appeal from the outside. J & J Carter were contracted by Cork Bus Station to create a bus shelter canopy that would create an attractive covered area for passengers whilst also guiding users through the station space.
Tensile Structures from J & J Carter
At J & J Carter, our covered walkways can be designed to blend into the surroundings and existing style of a building. They can also bring architectural flare and a great design ethic that can enhance the aesthetic of a building, while also offering a practical solution. For more information on our canopies and covered walkways, contact our knowledgeable team today on 01264721630 or send us an email at [email protected]